Uniform
Our school uniform promotes a sense of pride and belonging.
School Uniform (Required)
Grey trousers or skirt.
Light blue shirt, blouse or t-shirt.
Burgundy jumper, cardigan, sweatshirt or fleece. (Generic items will be accepted - Does not need school logo)
Black shoes or trainers.
Nursery Uniform (Required)
As above but with burgundy t-shirt and light blue jumper. (Generic items will be accepted - Does not need school logo)
(Nursery children do not need to wear formal trousers; grey or black jogging bottoms are fine)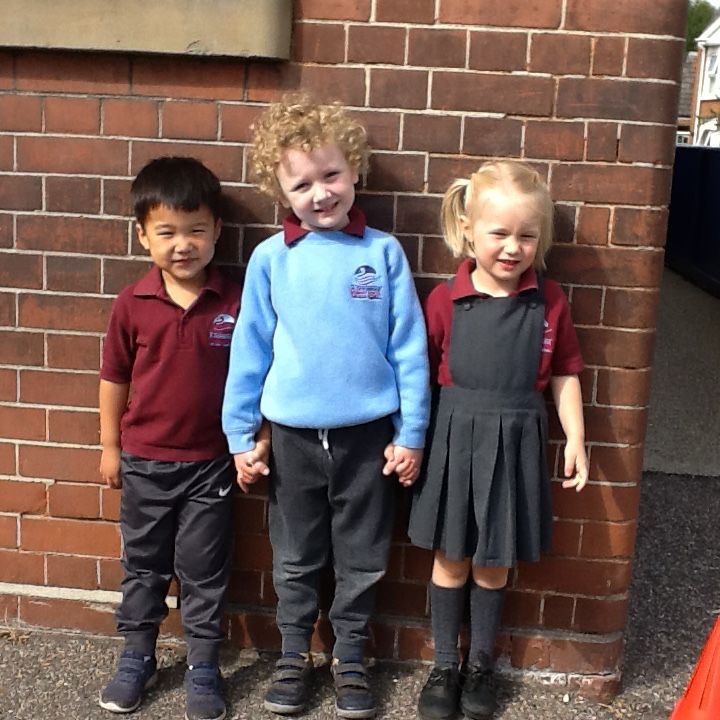 Summer Uniform Options
Red or blue gingham dresses.
Grey shorts.
Jewellery
Jewellery is not allowed in school. Small stud earrings are accepted (but not on days when they are swimming or have P.E.) and if an item has to be worn for religious considerations it should be taped over for safety reasons during P.E.
All items and personal possessions including electricals, watches and jewellery are the sole responsibility of the individual child. The school is not responsible for loss or damage to any items.
P.E. Kit
Physical Education is part of the school curriculum and in the interests of health and safety all children must change.
P.E. Kit: T-shirt with shorts, leggings or tracksuit trousers, plimsolls or trainers.
Swimming kit (Year 5 children only) Towel, brush/comb and all children will need to wear a swimming hat. Boys must wear swimming trunks (not long shorts) and girls must wear swimming suits.
We are very lucky to have our schools PTA who provide each Reception child with a school bag meaning parents do not need to buy them.
You can find a link to our schools account for buying name labels at the bottom of our website. It is called 'stikins'.