Our Ethos
OUR SCHOOL VISION
Learning: To prepare the children to be ready for the world- to be resilient, academically able, socially confident, self-confident, mentally & physically strong. We want children (and adults!) to love learning and to see the benefit of being lifelong learners.
Leading: We want our learners to not just be able to 'cope' with the world and the challenges it brings, but to be the future generation of leaders that help change and improve our world for others.
Curriculum Intent
We intend that our curriculum will enable all pupils to be curious, independent, confident and involved (C.I.C.I). We believe these behaviours will support our vision for pupils to love learning and make a difference in the world.
Values
To make learning an enjoyable and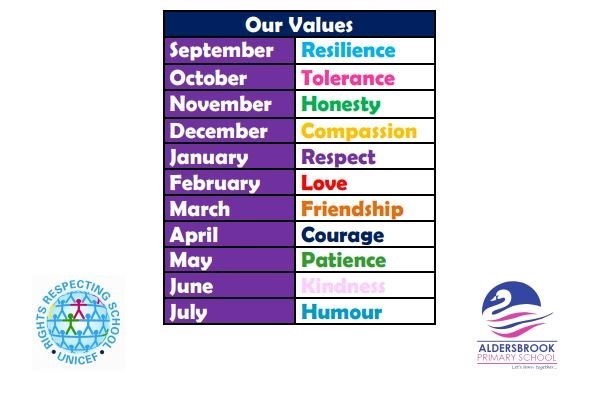 challenging experience, preparing our pupils for life. To ensure all pupils and staff achieve as highly as possible.
Aldersbrook will be a successful learning culture, which will enable pupils to become effective, enthusiastic and independent learners for life.
Values are principles that guide behaviour. At Aldersbrook adults are encouraged to model values and to give time for discussion and reflection. We believe that this empowers individuals to be effective learners and good citizens.
Our Values-based education philosophy underpins our work to actively promote fundamental British values of democracy, individual liberty, mutual respect and acceptance of those from all faiths, backgrounds and cultures. A rounded programme of assemblies and events promote children's spiritual, moral, social and cultural development, enabling them to develop their own moral and ethical compass to guide what is right and what is wrong.
Each month we will focus on a new value which will be promoted through lessons, discussions and also in the playground. We encourage children to talk about the value at home and to share and celebrate the value with adults and children both at home and at school.
The month's value will be shown on the 'Home Page'.