Curriculum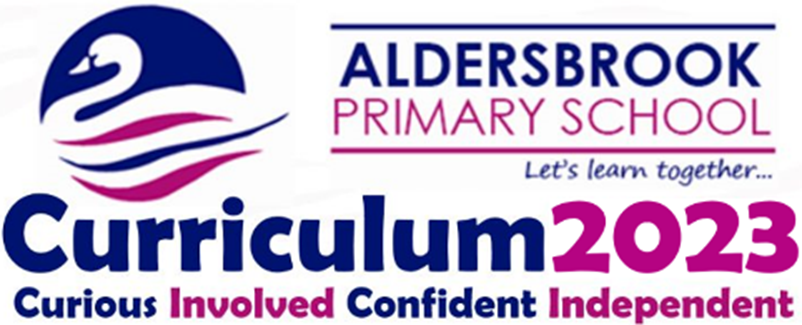 The curriculum we offer our children is rich, balanced and relevant to our children. We intend our curriculum to enable our children to be curious, involved, confident and independent.
At Aldersbrook our curriculum consists of a number of exciting learning opportunities and activities which promote our schools motto 'Lets Learn Together' and to also meet the requirements of the National Curriculum. It also focuses on our children as we believe they are the centre of all learning. In addition at Aldersbrook we offer yearly extended outdoor learning experiences to develop self – esteem and life skills.
At Aldersbrook we follow a 'Creative Curriculum' approach and where possible try to link topics across all subjects. We have worked to update our curriculum maps to reflect the content of the National Curriculum as well as to challenge our children in their learning. We have provided in house training to staff who have worked within year groups, phases and with subject leaders to develop their understanding of the requirements of the National Curriculum.
The National Curriculum in England sets out the knowledge and skills to be taught in all state funded in schools. It states that all state schools must offer a curriculum which is balanced and which promotes the spiritual, moral, cultural, mental and physical development of pupils at the school and society and prepares pupils at the school for the opportunities, responsibilities and experiences of later life.
In KS1 children are taught phonics using Super Sonic Phonic Friends to support Reading and Writing. It has been validated by the Government. It aims to build children's speaking and listening skills in their own right as well as to prepare children for learning to read by developing their phonic knowledge and skills. In a typical lesson children will recap sounds they have already been taught, be taught a new sound, practise reading and writing words with that sound in and finally apply this new sound - typically in a sentence. Spelling homework is set based on sounds covered in phonics each week. We ensure that reading books that are sent home are in line with the phonics phase the children are working in and cover the common exception words taught. In our Guided Reading sessions, we cover a range of skills including; decoding, recall, inference, prediction, talking about word or phrase choices.
This statement sets out the principles underpinning the curriculum and reflects the school's commitment to developing all aspects of our pupils' lives. .
We aim to inspire and develop curiosity within our pupils so that they become independent learners with a real passion for learning
Encourage pupils to be respectful of the diverse cultures and become a positive member of the community
Prepare pupils with the skills for the opportunities, responsibilities and experiences in later life in Modern Britain
We support our pupils in becoming 'aspirational' and reaching their full potential
Develop an awareness, appreciation and commitment to the local area through our community projects, school allotment and links to local services
For further details on the curriculum at Aldersbrook please refer to our curriculum maps for each year group, here you will find details of which topics and themes are taught across the academic year.
HOMEWORK
Children will be expected to do homework on a regular basis. This may include: reading, spellings, quick recall of times tables, completion of class work, research and revision. Homework is sent home on a Friday and returned on a Wednesday. Please refer to the Homework page for more information.
EDUCATIONAL VISITS
At Aldersbrook we feel it is important that our pupils take part in educational visits, which give them a wide range of experiences, which are linked to their learning within the curriculum.
CHARGING FOR SCHOOL ACTIVITIES
We encourage children to learn by practical and first-hand experience. And to support this, children have the opportunity to take part in educational visits. We do invite voluntary contributions in support of these activities to make them possible. Some extension activities and extracurricular activities are also charged for.
The objectives of our charging policy are:
To establish that activities offered during normal teaching time should be available to all pupils.
To confirm the right of schools to invite voluntary contributions for the benefit of the school or in support of any activity organised by the school.
Find out what each year Group is Learning