Coronavirus Support


I am sure you, like I, have just watched the Prime Ministers briefing closing all schools to most pupils until after the February half term.

As is widely publicised in the press, the new variants we are seeing of COVID-19 are 50%-70% more transmissible, and as a result, the UK has seen increasing rates of hospital admissions and deaths.
As the Prime Minister stated, we are now in a pivotal moment in our fight against COVID-19, and we can only tackle and beat this virus if we work together. It is absolutely critical that we keep the numbers of children in school to a bare minimum, and therefore ask parents to only request critical worker childcare at Aldersbrook as an absolute last resort.
'Parents whose work is critical to the coronavirus (COVID-19) and EU transition response include those who work in health and social care and in other key sectors' so that they are able to attend work during wider restrictions.'
If there is another adult or sibling over 18 in the household the expectation is that the children should be learning from home. This is to minimise any possibility of spread of the virus to any family- especially critical worker families.
I understand this is inconvenient for many families that need the adult at home to also work, but the work set on SeeSaw should be able to be accessed independently for all pupils and (hopefully) not require a great amount of input from any adult at home. This is also why we have introduced the Zoom sessions so that more difficult work can be explained and modelled by the class teacher for pupils so that they can access learning independently.
I ask everyone to remain calm, stay positive, and we must all "do our bit" to fight this virus together. The Prime Ministers and his Government are clear – Stay at home, Protect the NHS, Save Lives
What is COVID-19?
Coronavirus is the virus that causes the illness COVID-19
COVID-19 is a respiratory illness that affects the lungs and airways
It can cause flu like symptoms, including fever, cough and difficulty breathing
The infection is not serious for most people including children
People most affected by the virus tend to be the elderly and those with underlying medical conditions however anyone can get COVID-19
Most people get better with enough rest, water to drink and medicine for pain
You can only catch it if you have been close to a person who has the virus
The NHS website provides more advice:
https://www.nhs.uk/conditions/coronavirus-covid-19/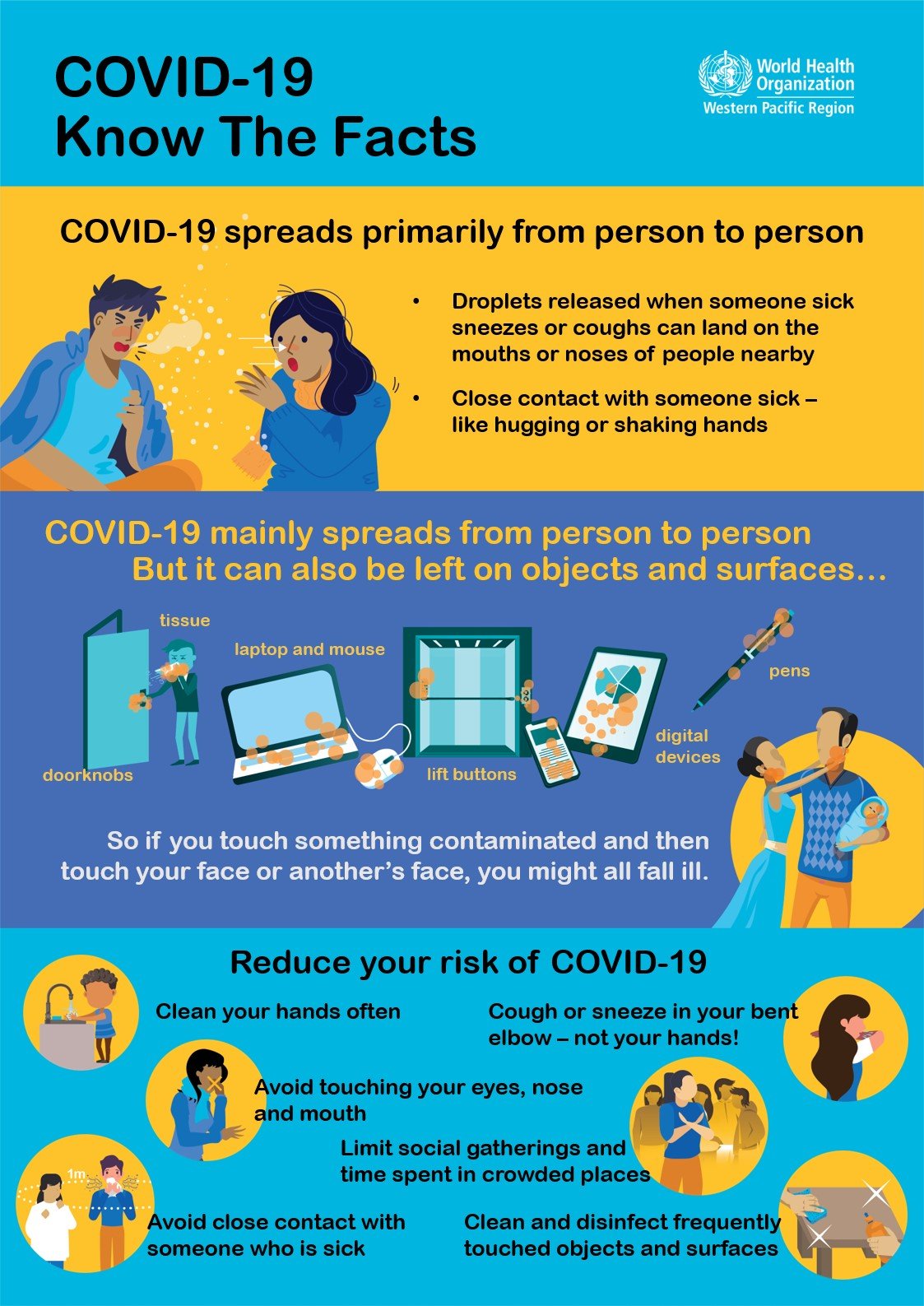 What can you do?
The most important advice to follow is here: https://www.nhs.uk/conditions/coronavirus-covid-19/social-distancing/what-you-need-to-do/
Wash your hands
Do not touch your eyes, nose or mouth if your hands are not clean
Stay at least 2 metres (3 steps) away from anyone you do not live with when outside your home
How are we helping?
Children will be in class group 'bubbles'. They can have lunch & play at the same time as these are outdoors or in the large hall with more space. All other times class bubbles will run in regular class sizes of 30 and mixing of groups minimised.

Start & finish times are staggered for different year groups to allow all children to enter and leave safely. There will be an 8:30-3:00pm day for lower school and 9:00-3:30pm day for upper school. Lunch times are also staggered to allow one year group 'bubble' in the dining hall at a time. Sorry, this means that in the short term, parents with children in both lower school and upper school will have a 30 minute wait to drop off & collect siblings. In a school with 677 students we cannot do a safe drop off/pick up or lunch without a little extra time to do this in the short term until regulations change.

Only school dinner children will go to the dining hall for lunches each day; packed lunch children will be in their classrooms to eat and supervised by midday staff. They then all play together in their year group bubble. This is to allow us to move bubble year groups through the dining hall at a faster pace. Lunches will run in three slots (11-12, 12-1, 1-2) to allow all groups through.

Classes Year 2 upwards will be seated in desks facing forwards to minimise facing each other during the learning time. Once regulations change, this will go back to group settings to allow discussion.
Start & Finish Times/ Drop off & Pick Up Zones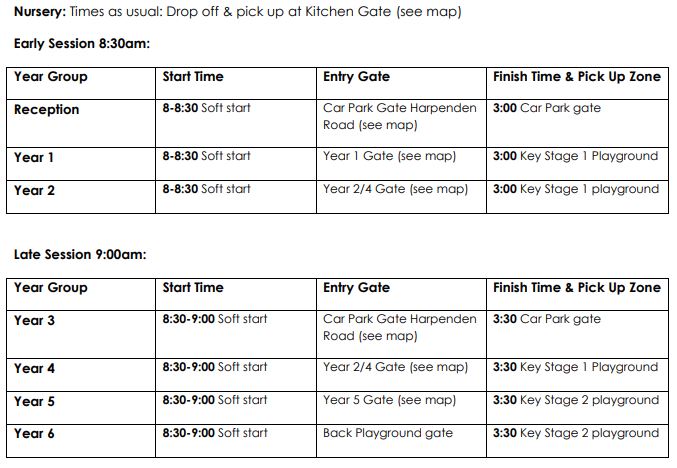 Testing Centre
Our nearest test centre is Mildmay Testing Centre
The test centre is located in Mildmay Car Park, next to the VHP Hindu Mandir, and opposite Ilford Islamic Centre.
Mildmay Car Park
1 Mildmay Rd
Ilford
IG1 1HW
For more detail, please see our Risk Assessment below: