Safer Internet Day 2021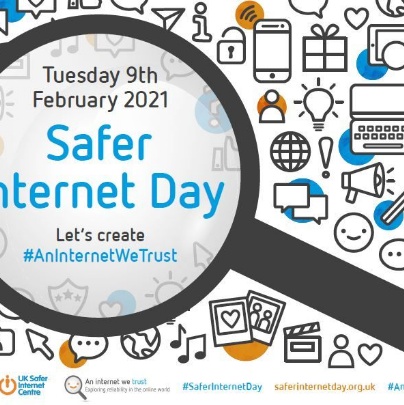 An Internet we trust: exploring reliability in the online world
Safer Internet Day 2021 celebrates the amazing range of information and opportunities online, and its potential to inform, connect and inspire us, whilst also looking at how young people can separate fact from fiction.
The day will also look at the emotional impact navigating a misleading online world can have on young people and why it is important to create a supportive, critical and questioning culture online that encourages debate and discussion. We want to give young people the skills to support one another, and the strategies to spot and speak out against harmful and misleading content online.
In order to decide on a theme that was important to young people we spoke to them about the types of content they see online and found fake news and inaccurate content to come up often. Young people said they saw:
'I see a lot of Fake News content, a lot of fake celebrity gossip, fake gossip (general)'
'Adverts on webpages showing celebrities with extreme weight loss transformations.'
'Adverts and pop ups or even occasional messages from strangers.'
'People on TikTok making up news and conspiracy theories…'
We know that the issues of misinformation and 'fake news' do not solely affect young people, but that these issues do have a great impact on how young people feel about their time online.
We want to help equip young people with the skills they need to spot inaccurate content, which can sometimes be a complex task. Once young people feel more comfortable separating fact from fiction it is important that we then help them to take the next steps in helping to create an Internet full of trustworthy and reliable information. We invite everyone to join us, and Safer Internet Day supporters across the globe, to help create a better Internet on Tuesday, 9th February 2021 and throughout the whole year.