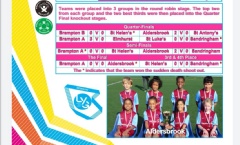 KS2 FOOTBALL TEAM ARE CHAPIONS AGAIN!
Published 11/10/19, by Shazan Hussain
This years Langdon SSP KS2 mixed football tournament took place on Wednesday 2nd October 2019 at Langdon Academy. We played 7 games altogether; won 6 and drew 1. In the final, we won on a sudden death penalty shoot-out against Brampton to be crowned champions . We are very proud of the team for this fantastic achievement!
Read More